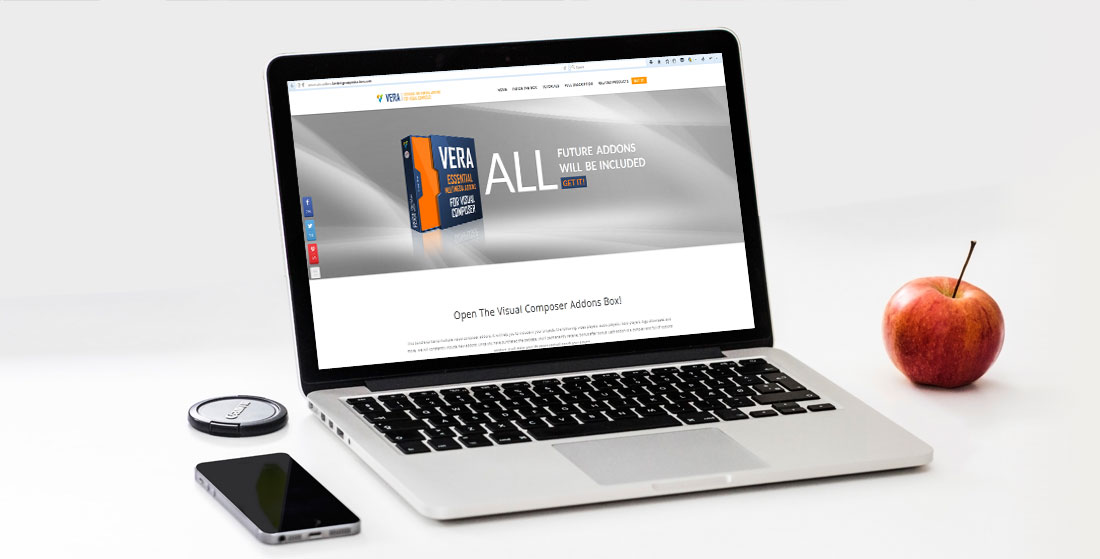 31 Jul

7 Best VC Addons For WordPress

If you have a website and want to take it to a higher level, you have to install Visual Composer Page Builder plugin. Then the next step is to install the best VC Addons that were also build to add extra functionality to web pages. Here are 7 Best VC Addons for WordPress that will certainly help your business.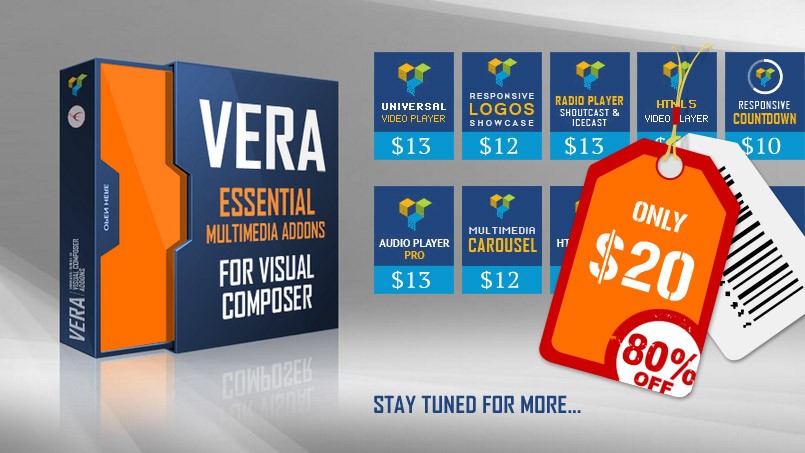 Vera – Essential Multimedia Addons for Visual Composer brings together Best VC Addons plugins including audio, radio and video players, logo showcases, multimedia carousel etc… On each plugin page you'll find the associated video tutorial.
Once you purchase this add-ons bundle, you regularly receive free updates. The package is constantly enriched with new best vc addons. You will be able to download the new ones as well, directly from your account. This offer is like subscribing to new software. You buy once and get a license for every new component that will be added.
UNIVERSAL VIDEO PLAYER – Best VC Addons
Supports YouTube, Vimeo and Self-Hosted videos and is a top-notch responsive HTML5 plugin compatible with all major browsers and mobile devices.
LOGOS SHOWCASE PRO – Best VC Addons
LOGOS SHOWCASE PRO
Contains 4 versions: Grid, Carousel (one by one), Carousel (Group) and Perspective. The last 3 versions have 2 skins: black & white. It allows you to easily display on your website: logos, clients, partners, sponsors, brands, portfolio items… you name it.
HTML5 AUDIO PLAYER PRO – Best VC Addons
HTML5 AUDIO PLAYER PRO
A responsive audio player, customizable from parameters. Any color scheme possible, so you can integrate this audio player in any design.
HTML5 RADIO PLAYER
Is all you need from a radio player: ShoutCast & IceCast support, categories, search, LastFM API support and more…
HTML5 VIDEO PLAYER
Comes in two versions: Right Side playlist and Bottom Playlist. It plays .MP4 and .WEBM video files.
MULTIMEDIA CAROUSEL
Two versions available: Classic and Perspective. It can also be customized as video gallery or audio gallery. Please see the features and check the live preview to convince yourself of its quality.
CHAMELEON AUDIO PLAYER
You can customize this html5 audio player by changing the color for: player background, volume slider, timer, buffer, seekbar, song title, playlist background, playlist font and playlist item line separator. You can use it with playlist (check Playlist version examples) or without playlist (check Minimal version examples). It supports .mp3 and .ogg audio files
MULTIMEDIA PLAYLIST SLIDER
Can be used as an YouTube & Vimeo video player or as a multimedia slider. Has YouTube and Vimeo Support, Option To Automatically Obtain the Video Thumbnail, Title and Description From YouTube Servers, Playlist With 3 Versions etc.
COUNTDOWN TIMER PRO
You can use it as CountDown for Events and Products launch or as expiry date for Offers and Discounts
HERO – SHOUTCAST AND ICECAST RADIO PLAYER WITH HISTORY
A top-notch HTML5 radio player with ShoutCast and IceCast support. It will display the current playing song & artist, the current playing artist image and the radio stream history.
Once you purchase this bundle, you regularly receive free updates. Constantly new addons will be included. You will be able to download the new ones as well, for free, directly from your account.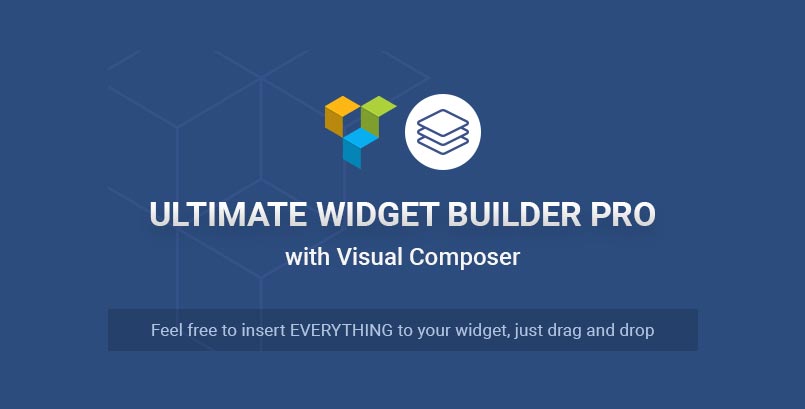 Now you can carry on widget building without sweating!
Feel free to insert EVERYTHING to the widget, eg: image, video, post slider… Just drag and drop!
Make more things, with less time!
HOW IT WORKS
With Ultimate Widget Builder Pro, you can just drag and drop elements easily the way you're doing with Visual Composer.
Why Ultimate Widget Builder Pro?
We know you have to customize every widget element in your website to fit your niche.
And sometimes you have to customize even more for specific projects or promotion campaigns.
That's why we create this plugin to bring you the greater experience without leaving the comfort of Visual Composer.
Using it, we save a lot of time, and so will you.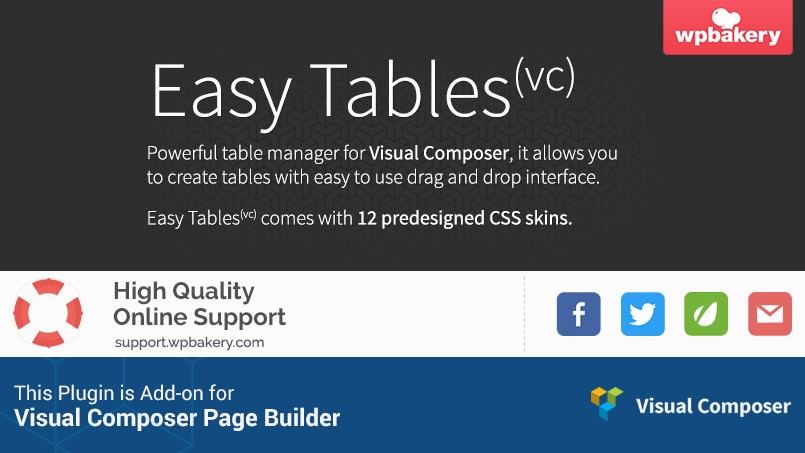 Table manager for Visual Composer allows you to create and manage tables with drag and drop interface, very familiar "Excel" like experience. Add, Remove rows or columns in bulk – saves your time. No more boring tables! No limitations had been set.
List of features:
"Excel" like interface
Add/Remove rows and columns in bulk
WYSIWYG toolbar with essential controls (font size, bold, italic, underline, strike through, font color, cell background color, text alignment, cell borders)
Add HTML right into table cells
Bonus: 12 Table Visual themes for your tables
What you can do with Easy Tables?
It really depends on you, we set no limitations. We created unique easy to use tool for you. Share structured data with your visitors: Statistics, Reports, Analytics, Pricelists and so on…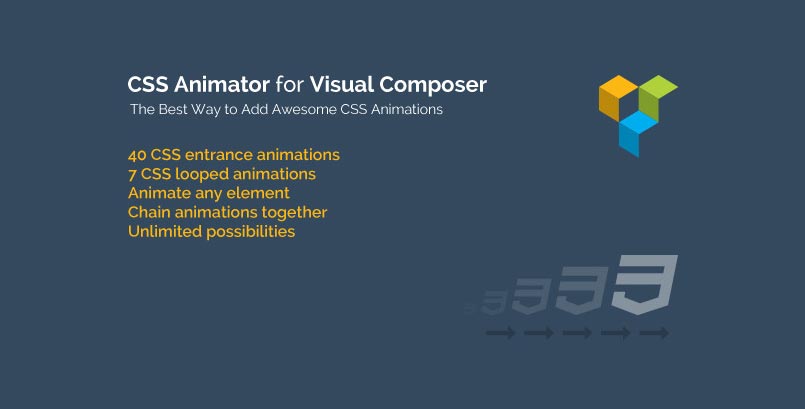 Add Awesome CSS Animations to ANY Theme
CSS Animator is a VC ADDON that allows you to add over 40 animations to Visual Composer elements in your WordPress site.
You can have your elements unfold, spin, twirl, flip, slide elastically and plenty more. You can also change the duration and starting time of each animation so that you can chain them together to achieve awesome effects.
CSS Animator was built specifically for easy usage in Visual Composer, and fits excellently in VC's drag and drop interface. Adding CSS animations is just as easy as dragging your elements inside a CSS Animator element.
WORKS GREAT WITH ANY THEME
View the demo site and open your mind to the possibilities. The demo site showcases all available animations and features.
Full Feature Set:
WordPress plugin
Visual Composer Addon
40 CSS Entrance Animations, for your every need
7 CSS Loop Animations, to grab attention
Integrates well with Visual Composer
Doesn't bloat your site, only the css of the used animation group are enqueued
Animate single or multiple elements
Chain animations together, using delays for maximum effect
Adjustable animation duration & delays
Uses CSS keyframes for animations, be on the cutting edge
Very easy to use
Simple interface
Includes full detailed fields
To ThemeForest WP Theme Developers
If you want to include this as a feature in your themes, CSS Animator cannot be embedded. You can however include the plugin zip file in your release as long as you purchase an extended license. Be sure to let me know of your theme so we can feature it here!
Having Trouble with the Plugin?
Head over to the support tab and check out the FAQs, or post a comment!
Enjoying the Plugin?
Be sure to leave a rating and review and show us some love.
Check out Our Other Visual Composer Addons
1. Isometric Image Tiles Shortcode for VC
2. Parallax Backgrounds For Visual Composer
3. 4k Icon Fonts for Visual Composer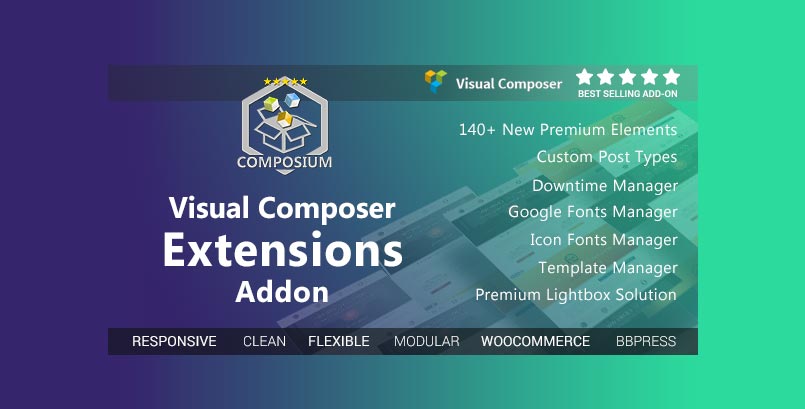 "Composium – Visual Composer Extensions" is the ultimate and only extension set and add-on you will ever need for your Visual Composer. With over 150+ new elements, an included premium lightbox and modal popup solution for a large number of included elements, custom post types with sliders, 16 included icon fonts with 4,700+ different icons … the list can go on, but you get the idea.
Packed with a multitude of even more features, such as the option to upload your own icon font, a Google Font Manager with more than 810 fonts, the option to use any Visual Composer element in a sidebar via our widget content builder post type, and 70+ CSS3 animations available for most included elements, this plugin should easily provide you with all the things you were always missing with the original Visual Composer.
With this plugin, you will also receive a built-in downtime/maintenance manager for your site, allowing you to create a custom downtime page with Visual Composer, which will be shown to your site visitors while your site is placed in downtime mode.
A few features for this VC ADDON:
Responsive Design
Unique Elements
Icon Font Manager
Google Font Manager
Template + Widget Builder
Lightbox Solution
Modular System
WooCommerce Integration
Best Value
Fast Support
Clean & Efficient Code
Automatic Updates
System Requirements
Visual Composer 4.9.x or newer (most current version is advised)
If your Visual Composer came as part of your theme, please ensure that the theme authors didn't modify the plugin or that the plugin is still capable to work with add-ons
WordPress 4.5.x recommended (minimum of 4.0)
PHP version 5.5.x or higher
Minimum of 128-256MB of PHP / WordPress memory recommended; depending upon other activated plugins and utilized theme, more might be required (after all, each WordPress system is unique)
When installing via WordPress, ensure that your upload / post size limit is large enough to accommodate the plugin file size; otherwise, upload plugin via FTP
Buying this VC ADDON, you can also benefit of Support for Other Plugins and Extended License.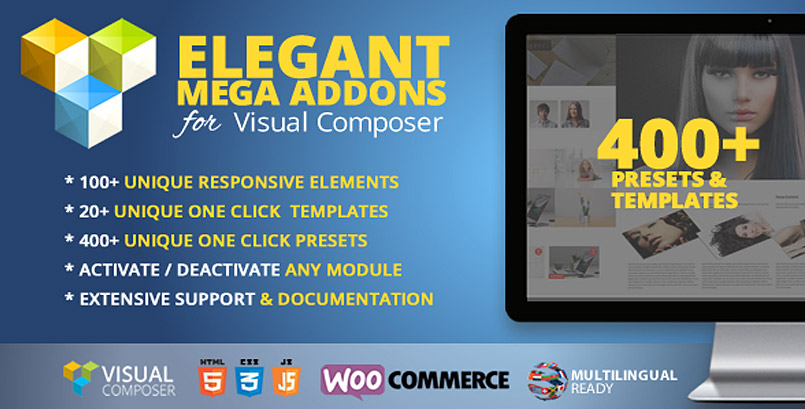 Elegant Mega Addons for Visual Composer will be increase your business to next level. You'll get 100+ All In One Elements
GET FREE GIFT
It will comes with 100+ Visual Composer elements + 400+ Predefined Templates in your way. Totally unique & totally infinity Visual Composer elements.
WHAT WILL I GET?
This Elegant best VC Addons pack is fully copatible with all major things. Such as Browsers, Plugins, WP versions, etc… Also you'll not get only a plugin.
When you bought this addon, you'll get professional fully responsive WordPress Theme + XML Demo content + Documentation + Liftime Support.
ADDITIONAL MODULES?
Elegant Mega Addons Plugin currently have 80+ unique modules but we will be add more modules to this plugin soon. You can suggest a module to us!
Sounds good? In the future you'll get more modules when you've updated the plugin. Also you can turn on/off each module from plugin settings.
HOW CAN I GET SUPPORT?
We are Europe based a bunch of Developers Group! So when you need any help, you can directly contact with our qualified support team.
You are the #1 priority for us and your satisfactions and suggestions very important for us!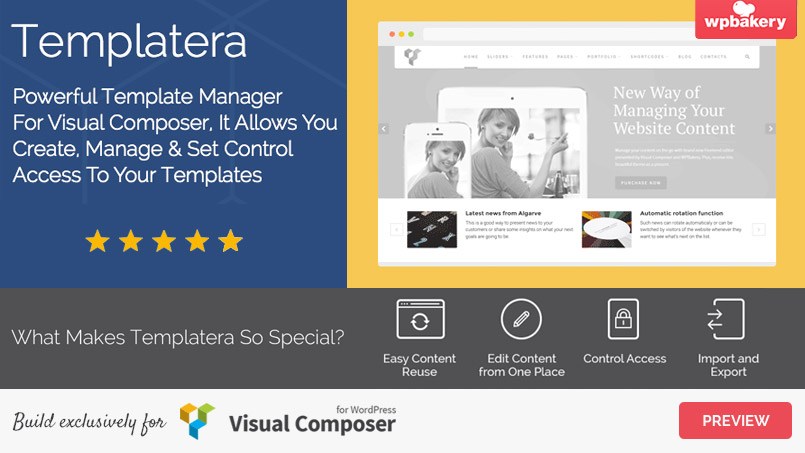 Templatera – powerful template manager add-on for Visual Composer Page Builder plugin.
New "Templatera" content element, which will appear after you install Templatera, will allow you to place pre-built templates as an independent blocks on your pages. If you modify some of your template, all pages that use "Templatera" block will also be populated with new content.
Main Features for this best VC Addons Template Manager:
"Templatera" content element – create template "piece", place it on multiple pages and when you will update that "piece" it will be updated across all pages where it was used! You will never go back after using this block
Import/Export templates in XML format – take your custom templates with you
Automatic migration of existing visual composer templates – no extra setup required
Templates access controls by content types
New post type 'vc_template' which allows you to add/edit/delete your templates with native and familiar WordPress UI
Templates access control by user roles
Single Template Export – export only those templates you wish