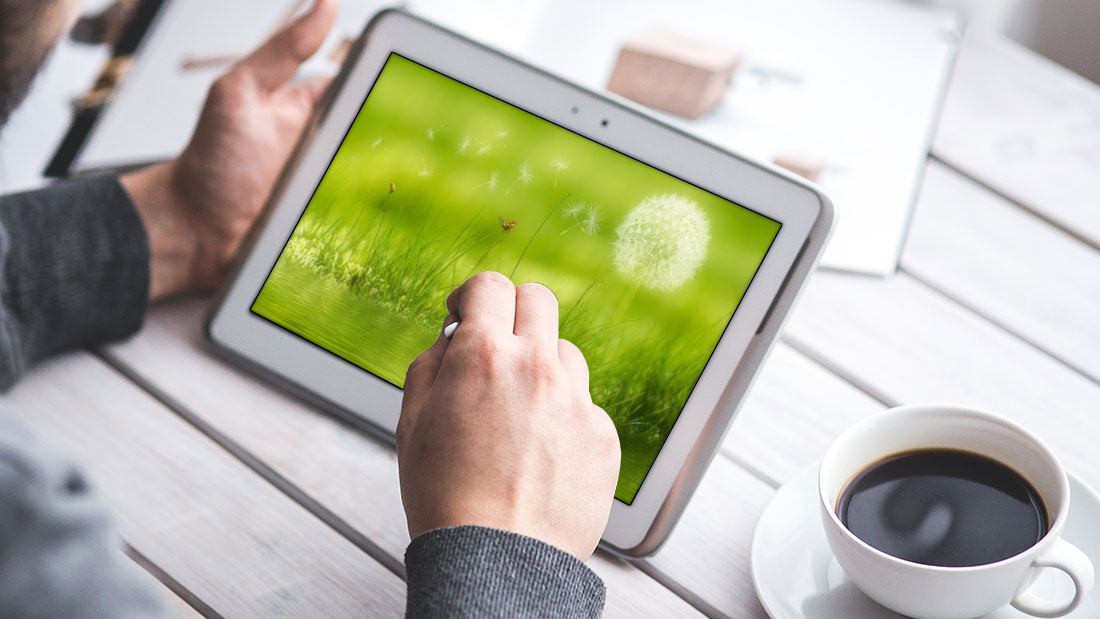 19 Apr

5 Best FullScreen Background WP Plugins

Nowadays it's very popular and stylish to have a fullScreen background and if you want to add it yourself to your site, here is my top 5 best plugins that will allow you to easily do it.
1. Video Player & FullScreen Video Background – WP Plugin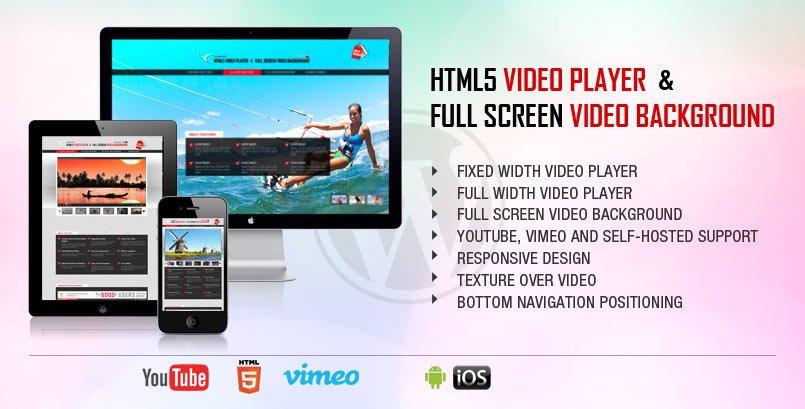 This HTML5 Video Player is ideal if you want a video player which will support YouTube, Vimeo and Self-Hosted videos.
Due to the fact that it has the option to be also used as a Full-Screen Video Background for your pages, it will allow you to create awesome websites.
IF YOU NEED ONLY THE JQUERY PLUGIN FOR THIS PRODUCT, YOU CAN DOWNLOAD IT FROM HERE
VIDEO TUTORIALS:
1. Installation
2. How To Create a Video Player
3. How To Create a Video Background For Your Page
FEATURES:
YouTube, Vimeo and Self-Hosted support
Mobile Compatible
Fixed Width/Full Width
Texture Over Video
Border
Lightweight
Responsive Design
Option To Automatically Obtain the Video Thumbnail, Title and Description From YouTube Servers
FullScreen video background
Multiple Parameters
Bottom Navigation Positioning
Free Updates
Note for IOS/Android (restrictions imposed by Apple/Google):
– for the moment only IOS allows autoplay and only if the video is muted. When you set autoPlayOnMobile:true, the video will mute automatically for mobile devices.
– auto-play option is only available for self-hosted videos. YouTube & Vimeo doesn't have this option for mobile devices, yet.

P.S. Video Player & FullScreen Video Background – WP Plugin become recently one of the 24 most wanted WordPress plugins, together with Premium Sliders, Video Players, Logos Showcase, Full Screen Image Or Video Backgrounds, Audio Players, Radio Players, Carousels, Countdowns. The Best Deal Here – 90% OFF.
---
2. Fullscreen Background Slideshow for WordPress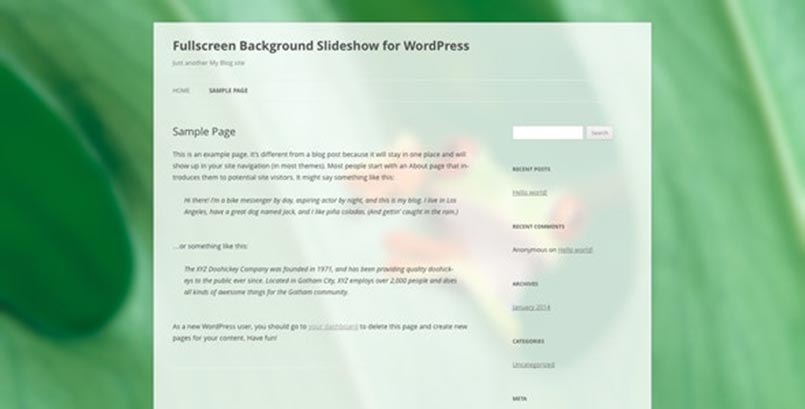 A plugin help you to add a fullscreen background slideshow, the image support pattern overlay too.
Note: Right now the plugin have the jQuery selectors options to make the content container transparent, but the blur image is generated by external image editor like Fireworks. You can apply Gaussian blur to the image then upload in the plugin page. And you may have to customize your theme's CSS to make it looks like iOS 7 blur effect.
Great Features of Fullscreen Background Slideshow:
Support batch upload, help you to add the content quickly.
Optional slideshow delay time.
Optional transparent content container.
You can customize it to display in a certain post/page only.
Works fine in the small screen device.
Enqueue the js and css only when needed. Keep WordPress page size smaller.
Images in the backend support drag to re-order.
Optional randomize images.
Optional overlay.
Live preview in the backend, what you see is what you get.
Compatible with latest jQuery and latest WordPress.
FAQ and source code are included in the package. Free update in the future.

---
3. CountDown With Image or Video Background – Responsive WordPress Plugin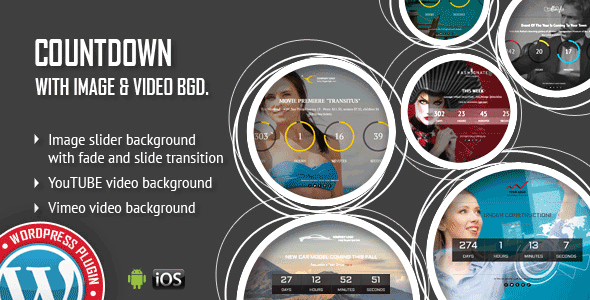 CountDown With Image or Video Background – Responsive WordPress Plugin can be used for: websites under construction, last minute offers, coming events, launching a new product, discounts interval… and much more.
IF YOU NEED ONLY THE JQUERY PLUGIN FOR THIS RESPONSIVE WEBSITE COUNTDOWN WORDPRESS PLUGIN – WITH IMAGE OR VIDEO BACKGROUND., YOU CAN DOWNLOAD IT FROM HERE :
VIDEO TUTORIALS
1. Installation:
2. How To Create a Countdown For Your Website:
3. Create a Countdown With Video Background:
4. How To Create a Electronic Countdown:
FEATURES LIST:
Extremly customizable
Responsive Design
Begin Date & End Date
CallBack Function
Multi Purpose Usage
Two Versions
Social/Share
Logo Section
Mobile Compatible
YouTube & Vimeo Support
Texture Over Images
Two types of transitions
Bottom Navigation Positioning
Touch Screen Navigation
Free Updates

---
4. Custom Backgrounds for WordPress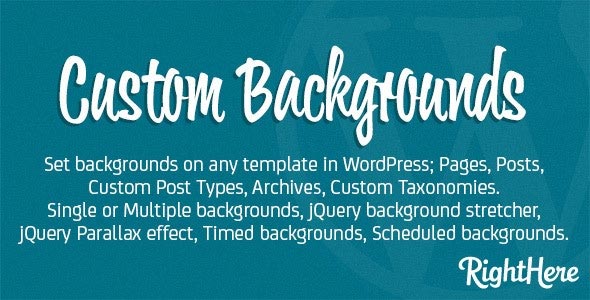 Choose between 4 types of backgrounds; Single and Multiple Backgrounds, jQuery Background Stretcher, jQuery Parallax effects, Background Timer (set transition delay), Background Scheduling (set date and time period) and Clickable Backgrounds (add URL). Set default background for any template in WordPress. And set individual backgrounds for any Page, Post and Custom Post Type.
Just point and click to choose where to apply your background. It has never been easier!
List of features
Background Options:
a. Create custom backgrounds
b. Create Scheduled backgrounds (date and time availability)
c. jQuery backgrund stretcher
d. Apply backgrounds to individual Pages
e. Apply backgrounds to individual Archives
f. Apply backgrounds to individual Authors
g. Apply backgrounds to custom post types
h. Background converter from Version 2.0 to 3.0
i. Create custom backgrounds with multiple images
j. Automatic detection of time zone (cookie set)
k. jQuery Parallax
l. Apply backgrounds to individual Posts
m. Apply backgrounds to individual Categories
n. Apply backgrounds to the Login Page
o. Enable Support for backgrounds on individual Custom Taxonomies
p. Choose background in Quick Edit mode for Posts, Pages and Custom Post types
q. Create custom background with 'parent' and 'child' attributes (apply multiple backgrounds to the same page)
r. Create Clickable backgrounds
s. Set background CSS properties (easy interface)
t. Enable support for custom post types
u. Use WordPress API to get the plugin URL and path (support for alternate content location)
v. Automatic Update Notification
Default Backgrounds:
a. Set default background for the 'Home' page
b. Set default background for the 'Search' page
c. Set default background for the 'Archive' page
d. Set default backgrund for the "Login" page
e. Set default background for the "Front' page
f. Set default background for the 'Author' page
g. Set default background for the '404' page
h. Set default background (this applies to any page where the background is not set)

---
5. WordPress Backgrounds Pro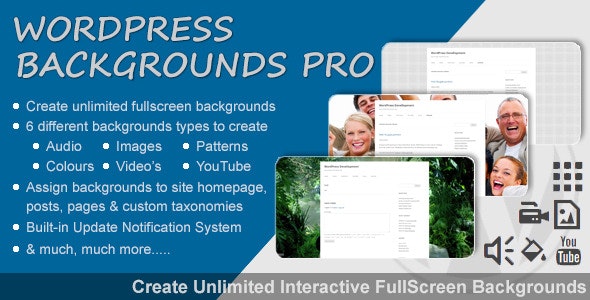 WordPress Backgrounds Pro – WordPress Plugin
WordPress Backgrounds Pro allows you to display selected audio / images / slideshows / patterns / self hosted videos & YouTube videos as the website or page background, without the need to edit the theme. These backgrounds are displayed as fullscreen backgrounds and compliment any WordPress theme.
WordPress Backgrounds Pro allows you the ability to create 6 different types of backgrounds that can be applied to your site homepage or any blog post or page and even custom taxonomies.
The 6 different backgrounds available include:
Audio
Solid Colour
Pattern
Images
YouTube Video's
Self hosted Video's
WordPress backgrounds Pro is your number one solution for having full page interactive backgrounds on your site. You can set a background set for your theme homepage, blog & standard pages as well as custom taxonomies.
You control the options for each different background type. Don't want the video controls to appear when displaying YouTube Video backgrounds? Simply disable them in the easy to use plugin Control Panel. Don't want the audio controls to display in the bottom right corner of the browser window? Move them to a possible you desire. You also have the ability to change the button colours & text font colours!
The plugin has been developed to he highest quality standards and tested in all major modern browsers.
WordPress Backgrounds Pro Features:
Create audio file backgrounds. Set them to auto-play when the page loads.
Create a pattern background using any of the 150+ backgrounds built-in.
Create self hosted video backgrounds with alternate video's & images for mobile devices.
Easy to use user friendly Control Panel.
Built-in Update Notification System.
Create images backgrounds with a single image or multiple slideshow.
Create a solid colour page background applying any colour you desire.
Create YouTube backgrounds setting single video's or custom playlists.
Detailed step by step illustrated documentation.

---
Curious to find out which are the 4 POPULAR FULL WIDTH AUDIO PLAYER WORDPRESS PLUGINS? Check Here